Thanks for being interested in buying with us!
Be on the look out, you'll hear from us shortly. In the meantime, click below to search for your next home!
Buying with Scout has its
Advantages
Buying a home shouldn't take so much time. With Scout, you'll be sleeping in your new home within 21 days.
How do we know? Because our technology has taken the complexity out of your decision-making process by compiling all the right data—which means you can make your decision quickly and with confidence.
See Homes First
Our cutting-edge technology sends you the latest listing within minutes of it going live.
Tour Homes Faster
We know the importance of seeing homes ASAP. That's why our showing agents are "on-demand" to come help you at the drop of a hat.
A Team in Your Corner
Your dedicated agent will be supported by a team of specialists who identify off the market opportunities, coordinate details and timelines, help you tour homes, and more.
Be Educated, not Sold
Our agents are salaried so they look out for your best interest—not their bank account. We educate and empower you to make your best decision with confidence…and without feeling pressured.
Save Thousands
Save money when you buy and sell with Scout, in the form of a "closing costs" credit.
Why Buying with Scout is
Better
Traditional Agents
Salaried agent with local knowledge and experience
?
This means your agent's only focus is doing excellent work for you, not their next commission paycheck. No more pressure sales tactics.
Streamlined Process
?
Scout's step by step processes and use of technology enable us to execute transactions consistently and accurately which creates easy, efficient, and enjoyable transitions for our clients.
On Demand Team Support
?
Why wait on someone else's availability to see a house? With Scout, you can say goodbye to waiting, our team gives you immediate access and real time support. Our agents are on-demand to help you—because they don't have to juggle finding new customers and serving existing ones. Their only job is you.
Zero Pressure Sales
?
Our full-time real estate agents work on salary, not commission. That means we are incentivized based on our performance—not how expensive your home is. This way, you'll always feel confident that your agent is serving your best interest.
Personalized Experience
?
There's no such thing as one-size-fits-all in real estate. You have your own unique home, circumstances, and set of goals. We have a process to tailor your experience to your lifestyle needs
Buy / Sell Bundle Savings
?
Want to save the most money possible? Let Scout handle your buying AND selling. You'll not only save thousands by avoiding sales commissions on the sale of your home but you will also save thousands more with our Buyer's Closing Cost Credit.
One-Stop Shop
?
Scout brings services like inspection, insurance, title, etc. under one roof to make it quick, easy, and less expensive. Consider us a one-stop-shop for homeowners.
We had an exceptional experience with Thomas, who was there for us through many of the questions we had when searching for our home.
Haleigh and Stephen
We were so pleased with our experience! People always told us "this will be the most stressful time ever" and we had the complete opposite experience with Scout.
Brooke I.
Finding the home that fit our budget, location, and style was important to us. Scout made sure we made the right choice that fit our financial and lifestyle goals.
Eric & Mary Charles
Scout has guided us through the purchase of two homes. If you want to work with a team that has your best interest at heart and delivers value, look no further!
The Jones Family
When we got married, we bought our first home with Scout. Thanks to Scout, we are now in our 3rd home. They always put our needs and values as their top priority.
The Frank Family
We don't sell. We
educate

and

empower

buyers to make their best decision.
Buy Your Home With Zero Stress!
Tired of getting excited about a home, only to find out it's no longer available? Finding your perfect home doesn't have to be a frustrating process.
The Scout Home Buying Process
Step 1: Get Pre-Approved
A pre-approval helps you prove your ability to afford property, which strengthens your offer and negotiations.
Let us help you get started
Step 2: Your Buyer Consultation
In this meeting, we'll develop your strategy and timeline. We also set up a daily email search based on your desired location & criteria.
Step 3: Tour properties
We'll show you homes and help narrow houses to find the best home for you.
Step 4: Negotiate an offer
Our "decision point" tool gives you better context of the property's true value. This removes the stress of unknowns and lets you move forward with confidence.
Step 5: Contract to close
Inspections and an appraisal will be done to make sure you're not overpaying. We'll identify any concerns in these reports and ask the seller to fix the problems.
Step 6: Closing Day
On your scheduled Closing Day, we will meet with an agent who will close your loan and finalize the purchase, allowing you to officially own your new home.
Step 7: Wake up in your new home!
Move in, get out of bed the next day, and make yourself a cup of coffee as you look around at your brand new place. Welcome to homeownership!
Our Everyday Heroes
If you are a firefighter, a teacher, a police officer, or in the military…you've spent your career making our lives better. Now, it's time for us to return the favor: We'd like to help you with the down payment on your next home.
Police
Firefighters
Military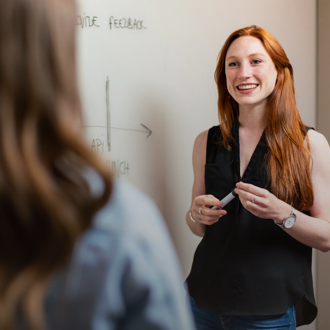 Teachers
Nurses